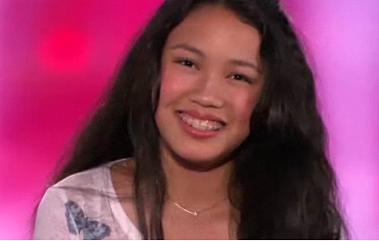 Tracy singer-songwriter Thia Megia, 14, wowed the judges on "America's Got Talent" Tuesday night, bringing her one step closer to the television show's top 20 finalists.
Until then, NBC won't allow her to grant media interviews, to give all contestants a fair chance, a show rep said.
But Thia's name has already made its way into the world of pop music.
The eighth-grader is a storied young artist, who at 10 years old sang the "Star Spangled Banner" in front of 60,000 fans at a San Francisco 49ers game. She went on to sing the National Anthem at two more 49ers games in 2006 and 2007 at ages 11 and 12, according to news reports.

Thia, who has been singing since she was 4, has won awards at several local and national singing competitions.

This week's TV appearance certainly wasn't her first.

In February last year, the songstress sang Jennifer Holiday's "I Am Changing" during a televised "Showtime at the Apollo" in New York City. She also appeared on NBC's KRON4 TV show "The World According to Gary," where she sang a Disney song.

Since her first, unsuccessful, audition in 2005 for a part in Broadway's "The Lion King," Thia has performed at countless charity and national sporting events.

You can watch her sing on "America's Got Talent"



She also has her own YouTube channel where you can watch some of her other performances.

SOURCE:
TracyPress